What is Annatto?
Annatto is a spice and a natural color that is derived from the achiote shrub. Annatto is popularly used as a food color and dye, but at the same time, it is also is a good flavor enhancer. It has a beautiful red color which is helpful in bringing red and orange colors to number of recipes. It comes from the achiote seeds which is a heart shaped, red fruit with spines. Annatto extract is derived from the achiote seeds that come out when the ripe achiote fruit bursts into two. Annatto is also laden with multiple medicinal properties and is therefore used majorly in cooking and other culinary practices.
Annatto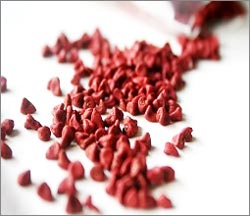 Regulatory Info
21 CFR Section 73.30, 73.1030 and 73.2030
Color
Orange Yellow
Source
Seed of Bixa Orellana
Color Pigments
Carotenoids Bixin and Norbixin
Solubility
Water- and oil-soluble
Stability
Fades in strong or direct light
Stable in Alkaline mediums
Degrades in acids
Degrades by oxidation
Resistant to microbial attack
Other Properties
Bixin is oil soluble Alkaline Norbixin is water soluble
Application
Dairy products, Bakery and Snack foods
Annatto Color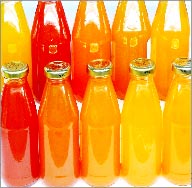 Annatto Color
Annatto is a natural food colorant that has been used since the ancient times. The color represented fire, sun and blood in early American Indian civilizations. The color was used for food, dying clothes, and coloring the body during ceremonies.
Annatto is yellow, natural food colorant obtained from the seeds of the Bixa Orella tree. The pigments that produce this yellow to orange color range are the carotenoids, bixin and norbixin. The concentration of the color is expressed as a percentage of these compounds and the content varies with the extraction method. pH,
emulsifiers
and overall solubility affect the hue. Oil soluble Annatto has a brighter hue. The use of annatto color is not restricted to any one kind of use. From lipsticks to beauty creams, from cheese to ice creams and from textiles back to beauty products. The uses of annatto color can be found is almost every walk of life.
Annatto Extract
Annatto extract can be found in many forms. It may be a powder, paste, oil or as a chunk. Apart from this the annatto seeds can also be used in food for culinary enhancements and
flavoring
. The procedure to make any of them is a little time taking as well as tedious.
If
annatto seeds
are being used as it is, it is not really tough. The seeds have a coating of an oily paste that contains bixin. Bixin is a yellow orange carotenoid. It is extracted using aqueous alkaline solution and vegetable oil solvent. Vegetable oil solvent gives oil soluble bixin, Alkaline solution gives water soluble norbixin and Propyline Glycol yields a combination.
For
powder form
, annatto seeds need to be dried and crushed to extract the powder. Deriving the
paste form
needs addition of a water, vinegar and other herbs too at times.
Annatto oil
is available in flavored as well as unflavored form. It is basically reddish orange colored oil which needs putting a little bit of edible oil in annatto seeds. It is used for cooking in a number of cuisines, but primarily in South America, annatto oil is quite popular.
Annatto Applications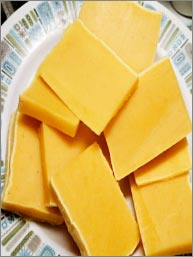 Annatto Color Applications
With its multiple advantageous properties annatto is highly demanded in the food industry as well as other industries that use annatto for dying purposes.
For cooking it is used majorly in dairy and bakery products like cheese, butter and other confectionery items.
Other uses of annatto can be found in paint making industry. A number of body paints are made using annatto dye.
Cosmetics like lipsticks and other beauty and body care products. It is used for coloring of moisturizers, creams, face packs etc.
Textiles industry also uses annatto for dyeing textiles and clothes.
It is also used in healing medicines like ointments and plasters.
It is also known to treat fever, dysentery, kidney diseases, etc.