Anticaking agents are food additives that keep powders or granulated materials such as milk powder, powdered sugar, tea and coffee powders used in vending machines, table salt etc. flowing freely. Anti caking agents, in fact, prevent the formation of lumps making these products manageable for packaging, transport, and for use by end consumer.
Definition of Anticaking Agents
Anticaking Agent is the food additive that prevents agglomeration in certain solids, permitting a free-flowing condition. Anticaking agents consist of such substances as starch, magnesium carbonate, and silica and are added to fine-particle solids, such as food products like table salt, flours, coffee, and sugar.
Examples of Anti Caking Agents Food
Some of the common examples of foods that contain anti-caking agents include:
Vending machine powders (coffee, cocoa, soup)
Milk and cream powders
Grated cheese
Icing sugar
Baking powder
Cake mixes
Instant soup powders
Drinking chocolate
Table salt
Anti caking agents are also one of the most common
flour treatment agents
Functions of Anticaking Agents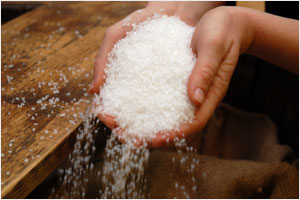 Anticaking Agents in Salt
Anticaking agents function either by adsorbing excess moisture, or by coating particles and making them water repellent. Some anticaking agents are soluble in water; others are soluble in alcohols or other organic solvents. Calcium silicate (CaSiO3), a common anti-caking agent which is added to table salt etc. adsorbs both water and oil. Although they are food additives, anti caking agents have other applications too. For example, anticaking agents are popularly used in non-food items like road salt, fertilizers, cosmetics, synthetic detergents, and in other such manufacturing applications.
Manufactured and Natural Anticaking Agents
There are two types of anti caking agents- manufactured or man-made and natural anticaking agents. Most of the anti-caking agents are made from synthetic substances such as silicon dioxide or magnesium and calcium stearates (solid saturated fatty acids.) However, there are many ani caking agents that come from natural sources. Some of the natural anticaking agents include kaolin (E559; talc (E553b); and bentonite. Some anti caking agents manufacturers also produce organic and hypoallergenic anti caking agents from such natural source as rice.
Man made anticaking agents are manufactured from chemicals and other artificial substances like silicates, acids etc. Examples of manufactured anti-caking agents include calcium silicate (E552), magnesium carbonate (E504) and sodium aluminosilicate (E554) etc. Majority of anti-caking agents are found with E numbers from 500 to 599. However, apart from the list of E numbers anti caking agents, there are a few that fall into other categories too like the acidity regulators (because they serve two purposes.) Some of such anti caking agents having dual/ multiple purposes include:
E421 - Mannitol as it is also a texturising agent, a sweetening agent, and anti-sticking agent as well as a humectant.
E460a - Microcrystalline cellulose as is also a bulking agent, binder and stabiliser.
E460b - Alpha cellulose as it is also a bulking agent, binder and stabiliser.
List of Anti Caking Agents E numbers
Following is the list of anti-caking agents commonly used in foods and drinks.
Anticaking Agent E510

E341 - Tricalcium Phosphate
E500 - Sodium carbonate
E501 - Potassium carbonate
E503 - Ammonium carbonate
E504 - Magnesium carbonate
E507 - Hydrochloric acid
E508 - Potassium chloride
E509 - Calcium chloride
E510 - Ammonium chloride
E511 - Magnesium chloride
E512 - Stannous chloride
E513 - Sulphuric acid
E514 - Sodium sulphates
E515 - Potassium sulphate
E516 - Calcium sulphate
E517 - Ammonium sulphate
E518 - Magnesium sulphate, Epsom salts
E519 - Copper sulphate
E520 - Aluminium sulphate
E521 - Aluminium sodium sulphate
E522 - Aluminium potassium sulphate
E523 - Aluminium ammonium sulphate
E524 - Sodium hydroxide
E525 - Potassium hydroxide
E526 - Calcium hydroxide
E527 - Ammonium hydroxide
E528 - Magnesium hydroxide
E529 - Calcium oxide
E530 - Magnesium oxide
E535 - Sodium ferrocyanide
E536 - Potassium ferrocyanide
E538 - Calcium ferrocyanide
E540 - Dicalcium diphosphate
E541 - Sodium aluminium phosphate
E542 - Bone phosphate, edible bone phosphate (derived from steaming animal bones and used as anti-caking agent, emulsifier and source of phosphorous in food supplements.)
E550 - Sodium silicate
E551 - Silicon dioxide
E552 - Calcium silicate
E553(a) - (i) Magnesium silicate and (ii) magnesium trisilicate
E553(b) - Talc
E554 - Sodium aluminium silicate
E555 - Potassium aluminium silicate (Produced from several natural minerals.)
E556 - Aluminium calcium silicate (Produced from several natural minerals.)
E558 - Bentonite (A natural type of clay from volcanic origin. It is a decolorising agent, filter medium, emulsifier and anti-caking agent. Bentonite is used in pharmaceutical agents for external use, edible fats and oils, sugar, wine.)
E559 - Kaolin
E570 - Stearic acid
E572 - Magnesium stearate, calcium stearate
E574 - Gluconic acid
E575 - Glucono delta-lactone
E576 - Sodium gluconate
E577 - Potassium gluconate
E578 - Calcium gluconate
E579 - Ferrous gluconate
E585 - Ferrous lactate
E900 - Polydimethylsiloxane
Based on the above information on anti caking agents, it can be stated that they are becoming more and more popular with processed
food packaging
that might let moisture in and form lumps. These anticaking agents keep the food item flowing freely till the time end user want it to be.