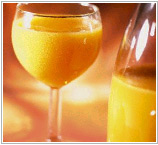 Dyes are preferred for beverages over lakes. Yet still beverages and carbonated beverages have different color characteristics. At times the color is dissolved with the flavor. This reduces the stability but water miscible solvents are used to balance that effect.
The carbonated drinks contain ascorbic acid as an oxygen scavenger and a source of vitamin but it leads to color fading. Care must be taken that these beverages are kept at the required light and temperature conditions. More over the color fades at the same time as the flavor degrades and thus the color change can be taken as the visible indicator of the outdated product. If the drink is canned, degradation can be avoided but the can may get corroded due to presence of carbon dioxide.
Still beverages are easier to manage. There is no carbon dioxide and presence of fruit juice can reduce fading.