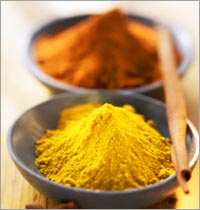 29 October 2010-
Turmeric is being used as a food color in India as well as many other Asian countries, since ages. Apart from the food coloration purpose, turmeric is also believed to have medicinal and therapeutic uses. With all due respect to the benefits that this
food additive
renders, the negativities of its usage are also something that every one must be aware of. Mentioned below are the side effects of turmeric on human body. Take a look:
- Over consumption of turmeric can end up in gastrointestinal problems. A prolonged usage of
turmeric
can lead to heartburning sensations, hyper-acidity and even intestinal or stomach ulcers.
- Turmeric is known to have anti clotting properties which can be harmful for people with blood clotting problem. Since it restricts the clot formation, it invariably increases the chances of bleeding. Thus, people awaiting surgery or the ones with the problem of blood clotting should avoid the usage of turmeric.
- Studies regarding this
natural food color
has suggested that its consumption in a long run, might cause liver problems. Thus, most of the doctors agree with the restricted consumption of turmeric for people having liver problems, gallbladder or bile duct dysfunctions.
- Pregnant ladies are suggested not to add too much of turmeric into their meals as being a uterine stimulant turmeric can induce uterine contractions, bleeding and miscarriage among pregnant females. Also, nursing mothers in many Asian countries are not given turmeric regarding health concerns. (though this one is not supported by any scientific evidence)
- Turmeric at times, can react with certain prescription drugs and thus, cause issues in the running medication. This happens specifically with regard to - Non-steroidal anti-inflammatory drugs (NSAIDs) and anti-coagulant or anti-platelet medications.
- Turmeric should strictly be avoided during jaundice, acute bilious colic and hepatitis.