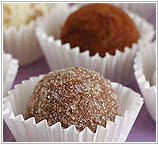 Almost all confectionery have added colorants in them. Most common ones are candies, jellies, coated candies and chocolates.
Candy and starch jellies are made from different types of starch and there derivatives. The mixture is cooked till the required moisture content is obtained. This is then deposited into starch molds. Liquid colors are added towards the end of the heating process so that the color characteristics are not degraded.
Candy cream centers are again colored with the liquid colors of softer hues. For hard boiled candies, color is added while boiling and the end color has a dull look because of excess boiling and water base.
Pan coated candies use lakes. The color of the top coating is more important than the depth color. Top coating lakes are used in combination with titanium dioxide. These colors are preferred brighter than the soluble dyes.