June 22, 2010- Paprika spice is a fine powder that is ground from the bell peppers and chili peppers variety of Capsicum annuum. It is used as a seasoning and as a food color to induce a
red color
to the food. It also have a peculiar flavor to it, which might range from sweet to mild and from mild to hot. It has a pungent and fiery flavor to it as well. The varieties of Capsicum annuum from which the paprika spice is made are usually small and cone shaped. Paprika powder may vary from red to rusty brown color. Some of the best varieties of paprika belong the state of Hungary. Hungary, along with Spain, is one of the important paprika growing hubs. The Hungarian paprika is known to be much stronger and fiery than its other counterparts.
Hungarian Paprika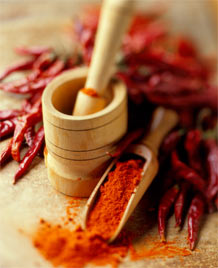 Hungarian Paprika
Paprika from Hungary has been so popular that it is not just popularly, but even officially called the Hungarian paprika. Some of the finest paprika comes from the states of Szeged and Kalosca. Both the states have been a a tough competition to each other in producing a fine quantity of fine quality Hungarian paprika. Hungarian paprika has a number of taste varieties that range from delicate to hot.
Hungarian Paprika Varieties
As mentioned above, Hungarian Paprika is available in a number of varieties varying in their color and degree of fieriness and pungency. The main types, in order of their pungency, are:
Special Quality – Bright red and mild.
Delicate - Mild
Exquisite Delicate
Pungent Exquisite Delicate
Noble Sweet
Half Sweet
Rose – Light red and mild
Hot – Brown orange in color and most pungent
Hungarian Paprika Uses
Paprika has been used in food for a variety of reasons. It might be added to change the color of the food, enhance its flavor, make it more pungent and spicy. The Hungarian paprika has been named so because of its long history of association with the country. It is also used in a lot of Hungarian preparations. Some of the main culinary, Hungarian paprika, uses are: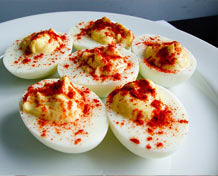 Hungarian Paprika Uses
It is an important ingredient of a number of spiced meat products.
It is also an important ingredient of the Turkish preparations and recipes, namely soups and stews.
It is also used for the famous Indian tandoori preparations as a natural food color.
Hungarian paprika is a popular garnish for salads and appetizers.
As a flavor enhancer, Hungarian paprika is used in rice, fish and preparations with curry.
It is an utmost important ingredient of Hungarian cuisine and its special recipes like Paprikash and Goulash.
Paprika has a smoky smell to it and is therefore used to lend food a wonderful smoky aroma.
It is also used with henna to bring about a red burgundy shade to the hair.
Paprika also works as an emulsifier and used with salad dressings.
Apart from being used majorly in food and other culinary uses, Hungarian paprika is also laden with a high quantity of Vitamin C, which is almost seven times that of oranges. But this vitamin content is often lost due to high heat cooking.