Harmful Food Additives - Harmful Food Preservatives & Chemical Food Colors
Food additives, both natural and chemical food additives are found in almost all the packaged food available in the market. But not all of them are safe. Harmless food additives are ruthlessly put into packaged foods. Usually these harmful food ingredients are not in the eye of the concerned authorities, because they don't tend to have severe reactions on many. Harmful ingredients are usually chemical food additives that should be avoided. But it is often due to lack of awareness and knowledge about these harm food ingredients and harmful additives, that majority of the population ends up having them. The list of food additives to avoid helps in understanding what are the most harmful of these additives lot and are capable of causing, food allergies and intolerances.
There are a number of harmful food additives that are found in everyday consumption foods like, chips, cold drinks, high fat diets, caffeine containing beverages and other junk and health foods too. Let's have a look at a few of the most harmful of these dangerous food additives and what can be the probable food allergy intolerances associated with them.
Harmful Food Preservatives
Preservatives are as food additives in all kinds of packaged foods. But many of them are actually harmful food additives that should not be consumed without being aware of personal food allergy intolerance.
Sulfites is one of such dangerous food additives. Primary reason for adding sulfite preservatives to packaged food is to increase the shelf life of the food product. It has the property of curbing the growth of harmful bacteria, maintaining colors and increasing the life of the product, and is therefore a popular among the packaged food manufacturers. Sulfites are not harmful food additives for most of the people, but for some, sulfites might pose as highly reactive and harmful foods. Sulfite is a harmful food preservative and its allergy intolerances might vary from rashes to asthma attacks. The severity of the reactions will obviously differ from individual to individual. Foods that contain sulfites in different chemical forms are dry fruits. Molasses, a few of the packaged drinks, wine, vinegar, etc.
BHA or Butylated Hyrdoxyanisole is again one of the harmful food preservatives, used for cereals, gum, potato chips and oils. BHA is an infamous food additive, known for causing cancer and other health risks, But despite the dangers associated with the harmful food preservative, it is still among the commonly used packaged food preservatives.
Harmful Food Colorants/Colorings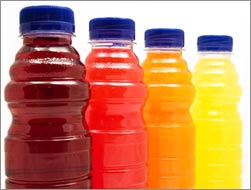 Coming to food colorings and colorants, there is a big number here of both natural and chemical food additives that are hazardous to human health. FD&C blue, red dye and tartrazine are a few of them from the class of chemical food additives. Among natural food additives, food colors like annatto pose quite a few health risks for those who are allergic to it. Brilliant Blue FCF, or the FD&C blue 1 is a food color that has often been banned in some countries, not due to some one time food intolerance, but because it is known to cause cancer and skin and eye irritating substances. This color is often found in candies and baked products. Not just FD&C blue 1, but the whole class of FD&C blue has some minor and major allergy intolerances and health hazards related to them, directly or indirectly.
Tartrazine is a yellow dye 5 that is a harmful food additive that causes a number of allergy intolerance reactions like depression, weakness, patchy skin, migraine, vision disorder, sleeping irregularities and most of all, hyperactivity in kids. It is commonly found in ice creams, juice drinks, jams, jellies and other canned foods. Red dye is also a harmful food additive among the harmful synthetic food colors category.
Apart from harmful preservatives and dangerous food colors, there all kinds of dangerous food additives like the harmful sweeteners, harmful food emulsifiers, food acids, etc. All these dangerous food additives are very prevalent in all sorts of artificially sweetened products. The only way to stay safe is to know what harmful food additives, you are allergic to, avoid those particular food additives and food ingredients.