July 31, 2010- Pectin is a word often used with reference to jams & jellies. Pectin is basically a thickening agent or a stabilizer that is found in fruit peels. Some of the popular sources of pectin are apples, apricots, cherries and oranges. The gelling agent is actually a complex carbohydrate, found in cell wall of plants and also between the cell walls. In plants also it performs the role of a stabilizer by regulating the water flow between the cells and keeping them strong and rigid. This is precisely the reason why some of the citrus and pectin containing fruits become mushy on being left out for long. The pectin content diminishes overtime causing them to become soft.
Grapefruit pectin as the name suggests is found in the grapefruit peel and pulp. It is a source of extremely beneficial, water soluble, dietary fiber. It is also a source of a number of health benefits apart from its nutrition value. It is known to work wonders for intestinal and digestive disorders. Pectin fruit fiber is suggested by health practitioners and doctors all around the world for a number of health related problems. Some of the common benefits and medicinal properties associated with the grapefruit pectin
thickener
are as follows.
Grapefruit Pectin Benefits - Medicinal Properties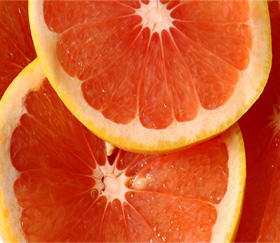 Most popularly, grapefruit pectin is related to cholesterol problems. Not just grapefruit pectin, even grapefruit is highly beneficial for those suffering from high cholesterol.


It is also highly beneficial for the blood pressure patients.


For those suffering from eczema, grapefruit pectin is helpful in reducing the degree of it and helps ease the symptoms of eczema as well.


Due to its emulsifying properties, grapefruit pectin helps fight intestinal problems and stomach disorders too.


Couple of studies have proved that for those suffering from heart diseases would also find some benefit in the grapefruit pectin fiber.


Helpful in curing kidney stones, stomach ulcers and diarrhea.


Apart from the medicinal properties and grapefruit benefits mentioned above, grapefruit pectin also has antibacterial, anti-fungal and anti-parasitic properties that make it more useful and beneficial for general health. It also helps in dealing with common cold due to its anti bacterial function.


Though there are no studies to prove it, but the regular looking emulsifier, grapefruit pectin is also helpful in fighting cancer to some extent. Regular consumption of grapefruit pectin greatly reduces the chances of cancer. The research it still in process, but a little effort might prove fruitful.